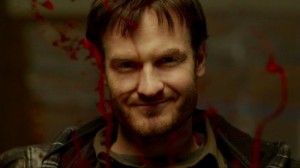 "Crave" is the confident and compelling directorial debut from Charles de Lauzirika, one of the world's most renowned DVD/Bluray boxset producers. It tells the story of Aiden (Josh Lawson), a crime scene photographer with vigilante urges and romantic longings. It's hard to say too much about the story, but we the viewers are treated to seeing the world through his eyes and from within his head, every aspect of his character laid bare. He's lovable but increasingly misguided, and as the storyline progresses we see him tested by both the threats of dangerous criminals and the desires to woo his would-be lover Virginia (Emma Lung).
This film is truly a delight to watch. It playfully skips between genres, being part film noir, part black comedy, part love story, to name just a few influences it pulls in. What's more it plays games with the reality with which the viewer is presented. The narrative places us firmly within Aiden's head, something that becomes evident when we are treated to some fantasy sequences which would not look out of place in an early Peter Jackson zombie movie. As well as this, a touching and occasionally disturbing inner monologue is overlaid through many of the scenes. As a result, we are never quite sure if we are viewing reality or his imagination, which is done in such a way as to add to the drama. At one point de Lauzirika manages to achieve that rarely successful move of breaking the fourth wall, and gets away with it!
Thematically, this is most similar to last year's Super, though this is a far superior film in my view. You could also make comparisons to Falling Down, Drive and Dexter, though the feel is different from all of those. The cinematography (by William Eubank, the man behind last year's dazzlingly-shot space movie Love) is perfect, with dark, moody shots balanced by scenes filled with brilliant white light. The score by Justin Caine Burnett is a perfect fit and helps us follow the ebbs and flows of Aiden's mood. Robert Law's script is right on the mark, delivering wit and tenderness in equal measure, and the characters are very believable, thanks to great performances and great chemistry from the Aussie leads, Josh Lawson and Emma Lung,. We get to see some surprising supporting roles too – played by Edward Furlong (that's right, the kid from Terminator 2) and Ron Perlman (Hellboy, Drive).
Crave manages to both playful and deep, exploring both sides of human temptation. As Perlman's character Pete puts it, "Everyone has a good wolf and a bad wolf inside them. Which is stronger? Whichever one you feed more."
Crave is a skilful blend of darkness and light, a movie of laughter and sorrow that defies classification and deserves great success.
For those who want to know more, here is a trailer:
Crave premiered at Fantasia in Montreal on July 24th 2012. Release schedules will be announced on the movie's official site.
My rating: 9/10